07 Aug

Sturgeon likely to delay decision on second independence vote

Prospects for new referendum clouded by Brexit confusion, Scottish first minister warns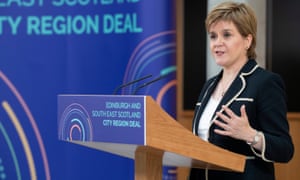 Nicola Sturgeon has signalled she is unlikely to be able to make a decision on an independence referendum this autumn because of the uncertainties and confusion around Brexit.
The first minister promised earlier this year to update the Scottish parliament this autumn on whether she will press ahead with her demands for a second independence vote once the terms of a Brexit deal were clear.
But after meeting Theresa May in Edinburgh on Tuesday, Sturgeon told reporters she was extremely doubtful there would be a clear deal with the EU by October, when May is due to update the Commons on the Brexit talks.
Sturgeon said the prime minister had insisted during their meeting that she would provide a detailed and substantive update in October. May had also implied that the Chequers agreement would form the basis of the UK's deal with the EU, Sturgeon said.
The first minister said she had a "huge amount of scepticism" that would be the case because of the continuing deep divisions between the UK and the EU over the Northern Irish border and within the Tory government.
She said she was unsure where that left the prospects of a second independence referendum. "Presumably, when we get to October, I will give an update [on the referendum]. What the content of that update is, by definition, I don't know right now," Sturgeon said.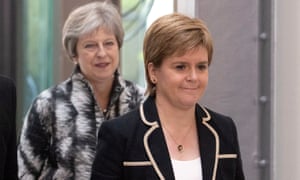 "The prime minister said today she is planning to be in a position where there is a detailed statement on the future relationship in October. I leave everyone round the table to draw their own conclusions as to how we get from here to there given the state of things just now, but that's what she just told me, so we will see where we get to."
In a statement in advance of their meeting, Sturgeon had warned there was a growing risk that the UK would stumble into a "blind Brexit" in March, signalling again there was too much uncertainty to risk a second referendum in the near future.
May insisted that her cabinet was resolutely standing behind the Chequers deal, and were selling that proposal to other EU leaders. "It's an agreement and a proposal that delivers on the vote of the people," she said.
Source: https://www.theguardian.com/politics/2018/aug/07/sturgeon-likely-delay-decision-second-scottish-independence-referendum-brexit-confusion