19 Sep

Release of jailed former PM set to reignite Pakistan election controversy

Sentence of Nawaz Sharif and his daughter suspended while appeal against corruption conviction is heard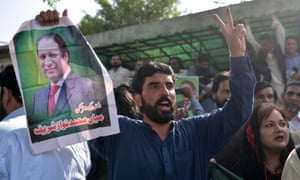 A Pakistani court has ordered the release from prison of the former prime minister Nawaz Sharif and his daughter Maryam in a move likely to reignite controversy over the disputed general election and end a brief moment of calm in the country's politics.
The Islamabad high court suspended the Sharifs' sentences while their appeal was heard against a corruption conviction in July for possessing unexplained wealth. Nawaz had been due to serve 11 years in prison, Maryam eight, and her husband, Muhammad Safdar Awan, one. All three are likely to be released on bail on Wednesday.
During the hearing, Justice Athar Minallah said prosecutors had failed to bring any evidence of Nawaz Sharif's ownership of the Avenfield apartments, the four luxury flats in Park Lane, central London, at the heart of the case, and wanted the court to keep him jailed "on mere presumption".
Leaders of the Pakistan Muslim League-Nawaz (PML-N), the party founded by the three-time prime minister Sharif, whooped and cheered at the court's surprising decision.
The PML-N has long claimed the imprisonment of the Sharifs shortly before the election on 25 July was politically motivated. In a nod towards the role of Pakistan's powerful military, an EU election observer mission noted "systematic efforts to undermine the ruling party" in the run-up to the vote, including through the judiciary. Opposition leaders across the political spectrum accuse the army of rigging the ballot in favour of Imran Khan.
The original verdict was said by critics to have relied heavily on the rules of the National Accountability Bureau, an anti-corruption court in which defendants are assumed guilty unless proven otherwise.
The Sharif family maintains that a Qatari prince gifted the property to Nawaz's children to repay an old debt.
Lawyers told the Guardian that suspending the sentence in the trial made a subsequent acquittal likely. Nawaz faces a further two charges, but his presumed heir, Maryam, may now be free to take up her position at the helm of the PML-N, aided by her time in prison.
"Her role will be one of being exonerated," said Daniyal Aziz, a former cabinet member and Sharif ally, adding that the public would now view her as the rightful party leader.
"Imran's goose is cooked," added Aziz, who said questions would be once more asked about the legitimacy of the mandate of his Pakistan Tehreek-e-Insaf (PTI) party. "Imagine if this decision had come before the election? The result would be night and day."
The Sharif family had returned to prison on Sunday after a five-day parole to attend the funeral of Nawaz's wife, Kulsoom.
Source: https://www.theguardian.com/world/2018/sep/19/pakistan-court-orders-release-of-former-pm-nawaz-sharif